TATI - Tübingen Ageing and Tumour Immunology Group
The Tübingen Ageing and Tumour Immunology Group (TATI) conducts research in human immunosenescence, vaccination, tumor immunity, immunotherapy, Alzheimer disease, longevity, immunity and aging. Our expertise is in polychromatic flow cytometry, T cell cloning, confocal microscopy, proteomics, signal transduction, hypoxia, antigen identification, immune monitoring, cancer vaccination, influenza vaccination.
Recent Publications
Shipp C, Speigl L, Janssen N, Martens A, Pawelec G.
A clinical and biological perspective of human myeloid-derived suppressor cells in cancer.
Cell Mol Life Sci. 2016 May 28. [Epub ahead of print]
Kini Bailur J, Gueckel B, Pawelec G.
Prognostic impact of high levels of circulating plasmacytoid dendritic cells in breast cancer.
J Transl Med. 2016 May 28;14(1):151.  [PubMed]
Aiello AE, Feinstein L, Dowd JB, Pawelec G, Derhovanessian E, Galea S, Uddin M, Wildman DE, Simanek AM.
Income and Markers of Immunological Cellular Aging.
Psychosom Med. 2016 May 16.  [Epub ahead of print]
Martens A, Wistuba-Hamprecht K, Yuan J, Postow MA, Wong P, Capone M, Madonna G, Khammari A, Schilling B, Sucker A, Schadendorf D, Martus P, Dreno B, Ascierto PA, Wolchok JD, Pawelec G, Garbe C, Weide B.
Increases in absolute lymphocytes and circulating CD4+ and CD8+ T cells are associated with positive clinical outcome of melanoma patients treated with ipilimumab.
Clin Cancer Res. 2016 May 11.   [Epub ahead of print]
Aiello AE, Dowd JB, Jayabalasingham B, Feinstein L, Uddin M, Simanek AM, Cheng CK, Galea S, Wildman DE, Koenen K, Pawelec G.
PTSD is associated with an increase in aged T cell phenotypes in adults living in Detroit.
Psychoneuroendocrinology. 2016 May;67:133-141.  [PubMed]
Recent and Future Activities
Oct 6-8, 2015: PIVAC 15 in Tübingen
was organized by Graham Pawelec (see EACR website).
At PIVAC 15 Dr. Alexander Martens (left) received a poster price and Kilian Wistuba-Hamprecht (right) received a prize for his presentation from Prof. Graham Pawelec.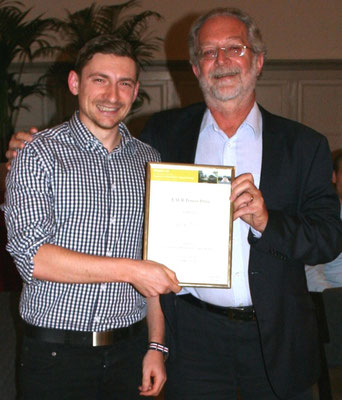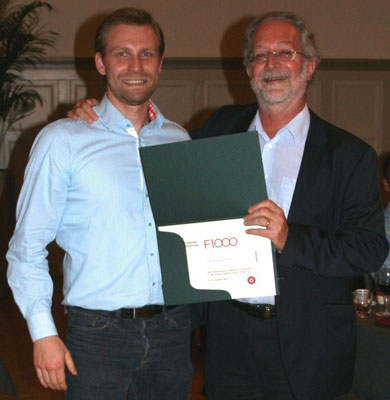 Future Activities
G. Pawelec will be attending the following meetings in 2016:
(last update May 6, 2016)
12.-18.5.     Seattle (AAI Annual meeting)
26.-29.5.     London (Inaugural Visiting Prof visit)
2.-5.6.          Seattle (AAA Annual meeting)
6.-8.6.          Tartu, Estonia (Summer School ABC5) 
14.-21.6.      Philadelphia (MDSC conference)
9.-13.7.        Manchester (EACR conference)
17.-22.7.     Bethesda (NIH review panel)
11.-15.9.     Winchester (PIVAC 16)
15.-18.9.     Nottingham (VP meeting)
22.-25.9.     Warsaw (ECB10 meeting)
12.-16.10.   Siena (NIBIT)
17.-19.10.   Montreal (Tamas 2nd Ageing meeting)
20.-25.10.   Boston (AACR Tumor Immunology meeting)
8.-13.11.      National Harbor (SITC)
15.-21.11.    New Orleans (GSA)
5.-10.12.      Liverpool (BSI/Dutch Immunol Soc meeting)
14.-18.12.    Athens (Oncoimmunology meeting)