TATI - Tübingen Ageing and Tumour Immunology Group
The Tübingen Ageing and Tumour Immunology Group (TATI) conducts research in human immunosenescence, vaccination, tumor immunity, immunotherapy, Alzheimer disease, longevity, immunity and aging. Our expertise is in polychromatic flow cytometry, T cell cloning, confocal microscopy, proteomics, signal transduction, hypoxia, antigen identification, immune monitoring, cancer vaccination, influenza vaccination.
Recent Publications
Aiello AE, Dowd JB, Jayabalasingham B, Feinstein L, Uddin M, Simanek AM, Cheng CK, Galea S, Wildman DE, Koenen K, Pawelec G.
PTSD is associated with an increase in aged T cell phenotypes in adults living in Detroit.
Psychoneuroendocrinology. 2016 May;67:133-141.  [PubMed]
Brouwers B, Hatse S, Dal Lago L, Neven P, Vuylsteke P, Dalmasso B, Debrock G, Van Den Bulck H, Smeets A, Bechter O, Kini Bailur J, Kenis C, Laenen A, Schöffski P, Pawelec G, Journe F, Ghanem GE, Wildiers H.
The impact of adjuvant chemotherapy in older breast cancer patients on clinical and biological aging parameters.
Oncotarget. 2016 Apr 18.   [Epub ahead of print]
Waaijer ME, Westendorp RG, Goldeck D, Gunn DA, Pawelec G, Stijntjes M, Slagboom PE, Maier AB.
Assessment of health status by molecular measures in adults ranging from middle-aged to old: Ready for clinical use?
Exp Gerontol. 2016 Apr 1. pii: S0531-5565(16)30088-2.  [Epub ahead of print]
Naumova E, Pawelec G, Mihaylova A.
Natural killer cells, ageing and cancer.
Cancer Immunol Immunother. 2016 Mar 11.  [Epub ahead of print]
Goldeck D, Witkowski JM, Fülop T, Pawelec G.
Peripheral immune signatures in Alzheimer Disease.
Curr Alzheimer Res. 2016 Feb 21. [Epub ahead of print]
Maerz JK, Roncoroni LP, Goldeck D, Abruzzese T, Kalbacher H, Rolauffs B, DeZwart P, Nieselt K, Hart ML, Klein G, Aicher WK.
Bone Marrow-Derived Mesenchymal Stromal Cells Differ in their Attachment to Fibronectin-Derived Peptides from Term Placenta-Derived Mesenchymal Stromal Cells.
Stem Cell Res Ther. 2016 Feb 11;7(1):29.  [PubMed]
Recent and Future Activities
Oct 6-8, 2015: PIVAC 15 in Tübingen
was organized by Graham Pawelec (see EACR website).
At PIVAC 15 Dr. Alexander Martens (left) received a poster price and Kilian Wistuba-Hamprecht (right) received a prize for his presentation from Prof. Graham Pawelec.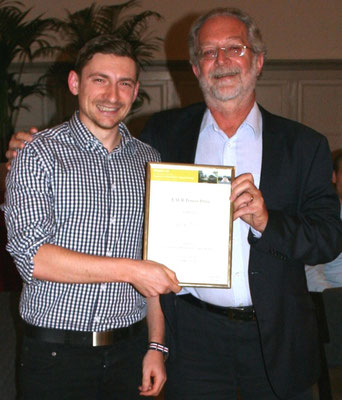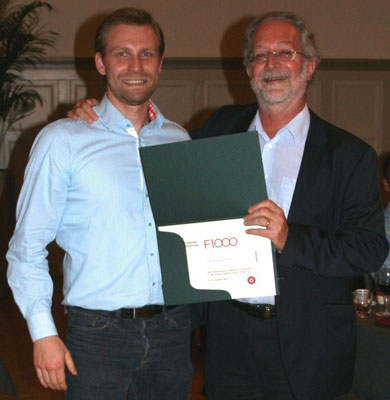 Future Activities
G. Pawelec will be attending the following meetings in 2016:
(last update May 6, 2016)
12.-18.5.     Seattle (AAI Annual meeting)
26.-29.5.     London (Inaugural Visiting Prof visit)
2.-5.6.          Seattle (AAA Annual meeting)
6.-8.6.          Tartu, Estonia (Summer School ABC5) 
14.-21.6.      Philadelphia (MDSC conference)
9.-13.7.        Manchester (EACR conference)
17.-22.7.     Bethesda (NIH review panel)
11.-15.9.     Winchester (PIVAC 16)
15.-18.9.     Nottingham (VP meeting)
22.-25.9.     Warsaw (ECB10 meeting)
12.-16.10.   Siena (NIBIT)
17.-19.10.   Montreal (Tamas 2nd Ageing meeting)
20.-25.10.   Boston (AACR Tumor Immunology meeting)
8.-13.11.      National Harbor (SITC)
15.-21.11.    New Orleans (GSA)
5.-10.12.      Liverpool (BSI/Dutch Immunol Soc meeting)
14.-18.12.    Athens (Oncoimmunology meeting)