ESTDAB
European Searchable Tumour Cell and Data Bank
Description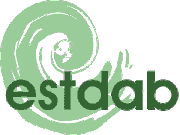 Cost-shared infrastructure project coordinated by G. Pawelec
This project is supported by the European Commission within the Fifth Framework Infrastructures program
QLRI-CT2001-01325 (2001-2004)
ESTDAB provides a unique resource offering tumour cell lines to the cancer research community. It links a total of seven EU and NAS infrastructures to characterise and provide melanoma lines typed for immunologically and clinically-relevant parameters, ie. complete HLA class I and II molecular typing coupled with an assessment of the expression of MHC molecules at the cell surface; tumour antigen expression; adhesion / accessory molecule expression; secretion of and response to cytokines.
A multi-parameter searchable data base was developed based on the IMGT/HLA database
and made available on the Internet for searching by qualified investigators. Cells will be shipped to bona fide investigators requiring tumours expressing a particular constellation of the markers mentioned above. The two new NAS members will contribute to the characterisation of the cell lines (glycosylation patterns, cytokine and receptor polymorphisms).
Order Cell Lines
Order ESTDAB Melanoma Cell Lines using one of the following invoices:
Invoice sheet for ordering cell lines.
invoice_sheet_for_cell_lines.doc
Microsoft Word Document
147.5 KB
Invoice sheet for ordering cell lines
invoice_sheet_for_cell_lines.pdf
Adobe Acrobat Document
28.5 KB
Links

ESTDAB on CORDIS (Community Research & Development Information Service) of the EU.

IPD: Immuno Polymorphism Database
IPD-ESTDAB provide a service enabling investigators to search online for HLA typed, immunologically characterised tumour cells.
Scientific Participants
Graham Pawelec
Section for Transplantation Immunology and Immunohaematology 
Zentrum für Medizinische Forschung 
Waldhörnlestr. 22 
D-72072 Tübingen, Federal Republic of Germany
I. Anthony Dodi
Anthony Nolan Research Institute
The Royal Free Hospital
Pond Street
Hampstead
London NW3 2QG, United Kingdom
Frederico Garrido
Dept. Analisis Clinicos & Immunology
Hospital Universitario Virgen de las Nieves
Avda. Fuerzas Armadas s/n
18014 Granada, Spain
Rolf Kiessling
IGT (Immune & Gene Therapy Laboratory
CCK (Cancer Center Karolinska)
KS-ringen R8:01
S-171 76 Stockholm, Sweden
Piotr Laidler
Institute of Medical Biochemistry
Jagiellonian University Medical College
ul. Kopernika 7
PL 35-034 Krakow, Poland
Steven G. E. Marsh
Anthony Nolan Research Institute
The Royal Free Hospital
Pond Street
Hampstead
London NW3 2QG, United Kingdom
Elissaveta Naumova
Central Laboratory of Clinical Immunology
University Hospital "Alexandrovska"
1 Georgy Sofiisky Street
1431 Sofia, Bulgaria
Per thor Straten
Tumor Immunology Group
Danish Cancer Society
Institute of Cancer Biology
Strandboulevarden 49
DK-2100 Copenhagen, Denmark